VENEERS TURKEY
Dental veneers are a cosmetic solution that can be applied to many tooth disorders, which negatively affect your appearance. A thin sheet, or 'leaf', of specially prepared porcelain, is attached to the front surface of the tooth to give a more aesthetic result.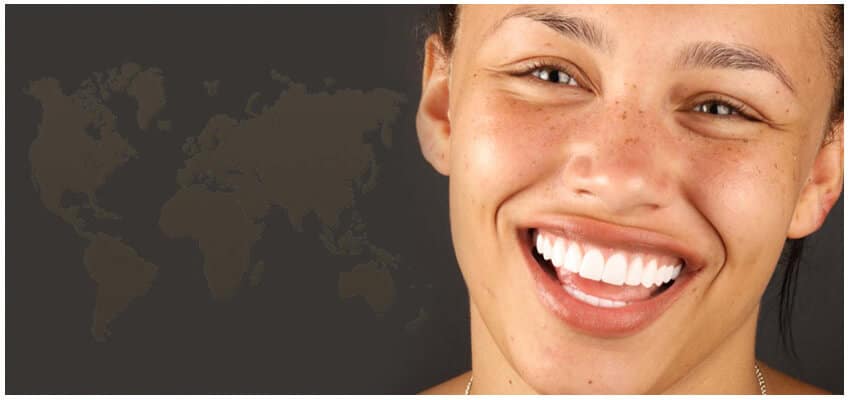 Dental Veneers in Turkey
We at Attelia Dental Centre take great pride in being one of the first dental clinics to offer modern health tourism to our international patients. For 18 years we have been offering a wide range of high-quality remedial and cosmetic dentistry, including dental implants, smile makeovers, aesthetic dentistry and dental veneers in Turkey.
Utilising our CEREC® technology and CAD-CAM (computer-aided design equipment) we offer you the highest quality teeth veneers available in Turkey. When we apply dental veneers In Turkey we only use those materials provided by the best international brands.
The cost to you, compared to those prices quoted abroad, will be so much cheaper. When you come to us you will undergo a FREE consultation, and we will then work up a FREE patient treatment plan and quotation for you. We promise, that when undergoing your VIP treatment, there will be no hidden extra charges or added costs to our original quotation.
Do you wish for pearly white teeth, or to remove that gap in your teeth, and have a great smile? Our Digital Smile Design, using dental veneers, may the best solution. Using the very latest equipment and technology, together with a dental colour chart, we can give you a smile design to rival those in Hollywood!
Redesigning your smile using dental veneers is not time consuming, and the results will amaze you!
The Class 'A' teeth veneers designed in our clinic are quite resistant to wear and staining, providing you observe good hygienic dental after care.
Different Laminate Veneers;
We offer 5 different high quality Dental Veneer systems in Turkey our clinic:
CEREC® Laminate Veneers
E-max Laminate Veneers
Empress Laminate Veneers
Vita Suprinity Laminate Veneers
Dental Lumineers
Free Dental Treatment Plan
Please click here to learn about personal FREE dental treatment plan and total cost
What are Dental Veneers?
Without risking dental health, dental veneers are a cosmetic solution that can be applied to many tooth disorders, which negatively affect your appearance. A thin sheet, or 'leaf', of specially prepared porcelain is attached to the front surface of the tooth to give a more aesthetic result. Dental veneers fit perfectly and are specially produced to give a natural appearance. Despite being formed from ultra-fine material, these dental veneers are extremely strong and durable, and can be produced from a variety of materials.
If you are not satisfied with the colour of your teeth, if your teeth are stained or are chipped, or broken, our 'state-of-the-art' CEREC® technology is an ideal solution. Your 'Smile Design' will be created using our NTT, CAD-CAM (computer-aided design equipment). In our laboratory our team of five specialist technicians in this field will then sculpt your veneers. Before fitting, between 0.3 and 0,7 mm will be etched from the original tooth surface, and the finely crafted porcelain layer (laminate veneer) will then be cemented into place. Depending on your preferences, we can produce a pure white Hollywood Smile for you, or you can select a tone you prefer from our colour chart.
CEREC® Veneers
If you wish to have a healthy and aesthetic smile in a very short time, veneers created using the CEREC® (Chairside Economical Restorations of Esthetic Ceramic) technology can be made in between one hour and three days (depending on the number of teeth needing to be restored). This time saving is ideal for patients, and will allow them to enjoy their vacation on their free days.
With the CEREC® system, the results are natural and lively, and because the CEREC® blocks are fabricated, they have a solid structure and are long lasting.
The dentist will implement a new tooth design on our CAT CAM computer, which factors in the patient's mouth measurements with the help of a special intraoral camera. We transfer detailed impressions of your teeth into our computer by using specially designed software. We can provide a new shape and colour to the veneers according to your wishes.
Cerec veeners completely reshape your teeth and have a very durable construction so that you have a beautiful and lasting smile for many years.
E-Max Veneers
The material used by the E-max system has a translucence that, while protecting the underlying teeth, visually provides the closest natural, enamel quality of real teeth. The flawless, transparent and glossy structure will give the patient renewed confidence in their smile.
E-max veneers, are probably the most popular with our international patients, and are fabricated, using first-class materials, by our expert technical staff in our on-site laboratory in only 3 days. You can either have a beautiful white smile, or you can select a preferred tooth tone from our colour chart. E-Max veneers are ideal for those who have one or more teeth that are damaged or discoloured, and will create a 100% harmony, blending perfectly with the patient's other natural teeth
The E-Max system is highly recommended for patients who wish to enjoy a wonderful holiday, and go home with a beautiful white smile!
Empress Laminate Veneers / Empress e.max®  Veneers
E.max® Press and Empress® 2 veneers are made from layered, compressed ceramic capable of realistically simulating the translucency and subtle colour transitions seen in natural teeth.
E.max® Press consists of a lithium disilicate glass ceramic, while Empress® 2 contains a distilled core overlaid with a compressed sintered glass ceramic. E.max® Press coatings can be thinner, while Empress® 2 veneers undergo greater compression when manufactured.
Our cosmetic dentists are guided by the patient's dental structure as to which veneer is suitable. The final results are made in-house by our experienced laboratory technicians. E.max® Press and Empress® 2 have the same price and image quality.
Vita Suprinity (New Generation Veneers)
The new generation Vita Suprinity® Laminate Veneers are formed from a glass ceramic material reinforced with zirconium. Since light transmittance is slightly higher than other materials, veneers made from this material are indistinguishable from natural teeth. There is a high resistance to breakage due to the fine and homogeneous structure of the material.
Attelia Dental Clinic is Turkey's most experienced NTT clinic and offers our patients the highest quality Vita Suprinity® Laminate Veneers designed with CAD-CAM technology. Our expert team of technicians create your Vita Suprinity® Laminate Veneers using our dentist's CAD-CAM computer design in just four days!
Our Vita Suprinity® Laminate Veneers will give you a dazzling natural smile while you enjoy a beautiful holiday in Antalya.
Dental Lumineers (leaf porcelain)
Unlike other coatings attached to the teeth, Dental Lumineers are an ultra-fine porcelain finish applied to the patient's teeth without any abrading of the original teeth enamel. Lumineers are of a fairly thin structure and are almost transparent. They are ideal for patients who have a problem with the colour of their teeth, have a gap in their teeth, or who wish to enlarge their original teeth. However, Lumineers are only suitable for anterior teeth, and are not suitable for chipped or damaged teeth.
Dental Lumineers are recommended after a physical examination by our Cosmetic Specialists under the supervision of a dental physician. Lumineers are attached to the existing teeth using a special dental adhesive, and can be used for many years.
As 'New Teeth Turkey', we use our exclusive digital design technology, and work with the best technicians available in Turkey, while providing comfortable and painless treatment.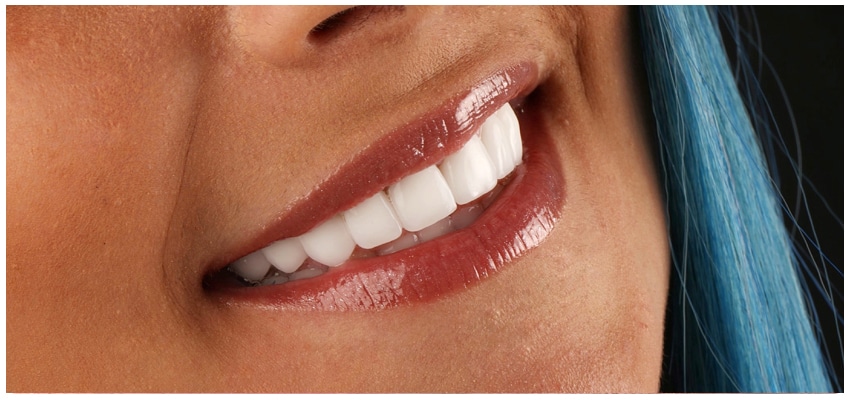 Why opt for dental veneers or lumineers?
If you have stained or coloured teeth
If you have broken or worn teeth
If you wish to fill a gap between teeth
If a perfect smile is desired
To create an aesthetic and beautiful appearance
Dental veneers or crowns?
Veneers and crowns have different restoration capabilities, and their structure is different.
Dental crowns cover the whole tooth, while dental veneers only cover the visible parts of the tooth.
Dental crowns contain more material than dental veneers.
Dental veneers prices and costs in Turkey
Prices of dental veneers in Turkey are very competitive. Our investment in contemporary dental technology, together with the fact that we don't work with a dental agent, means that we can offer the highest quality at the best prices.
When comparing our 'cost to high-quality ratio' with other dental clinics in the international market, our clinic comes out on top, with many, many, satisfied clients. The costs of our premium class dental veneers in Turkey, are for instance, extremely affordable compared to those in the UK.