COMPOSITE FILLINGS IN TURKEY
The dental filling treatment consists of two stages: first, your dentist will clean out the infected tooth, removing all signs of decay and damage; next, your dentist will bond the filling material to the tooth to provide additional strength and support.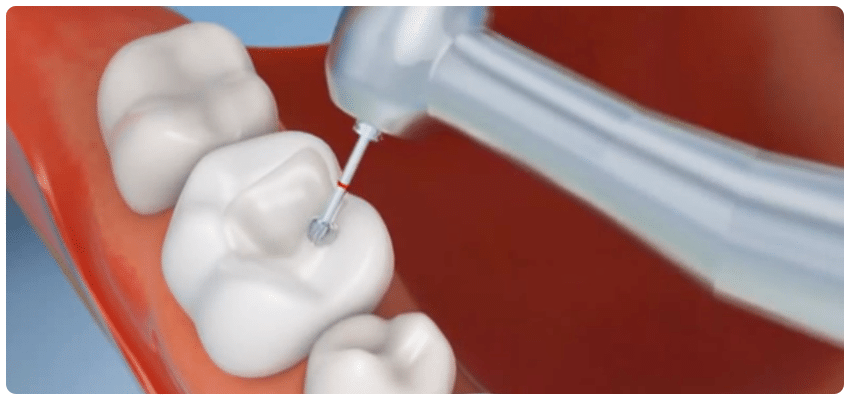 Composite fillings have a great many advantages over the older, amalgam (metal) fillings. They do not contain the metal, mercury; they have no metallic grey colouration; and are more resistant to time. Amalgam fillings do not bond so well with the original tooth structure, causing more damage to the filled tooth over time, and thus requiring removal, and further excavation of the tooth, creating a larger cavity. It is for these reasons that we, at Attelia Dental Clinic, do not use amalgam fillings in our treatment, and our endodontic specialist recommends that our patients have any amalgam fillings replaced with composite fillings.
Composite fillings are stronger, connect better with the natural enamel and are less likely to fracture or create sensitivity problems for the patient. And as this filling material is white, it creates an aesthetically pleasing result for the patient.
Replacing amalgam fillings with white composite fillings is completed on the same day in our clinic Turkey, and can be used comfortably for many years.
Composite Bonding Treatment
Unlike Composite Fillings, Composite Bonding is recommended for repairing broken and chipped teeth (often caused by trauma), as well as filling large cavities and other dental imperfections. Bonding technology can also be used to change the tooth size. This bonding treatment procedure is performed by our specialist endodontist.
Free Dental Treatment Plan
Please click here to learn about personal FREE dental treatment plan and total cost
Who may benefit from Composite Bonding?
This treatment is suitable for those:
who wish to change their tooth colour or shape
who have irregularities in tooth length
who want to enlarge or equalize their teeth.
with tooth fractures,
with tooth imperfections,
with spaces between the teeth
with tooth decay
How is Composite Bonding Applied?
Our experienced dental physicians at Attelia Dental Clinic will first prepare the tooth or teeth for the bonding treatment. They will select a colour from a chart to match the patient's existing teeth. The surface of the tooth (or teeth) is then prepared and covered with a material that is compatible with the existing tooth. This will help bond the composite material to the tooth. Then the prepared composite will be attached to the tooth and laser hardened. Final shaping and polishing will complete the procedure, and the patient can return to normal life.
Composite Bonding is quite affordable, and the average application time is between thirty and sixty minutes.
What is the life of Composite Bonding?
The final aesthetic result for the patient will have a life of between five and seven years.